Consumers are increasingly considering used cars, trucks, and SUVs to save money. But if buying a new vehicle wasn't hard enough, shopping around for a used one can be even more complicated. Hawthorne Auto Square has compiled this "Buying Used Cars Checklist" with a FREE downloadable checklist to help make the process easier.
Click below to Download the Ultimate Checklist for Buying Used Cars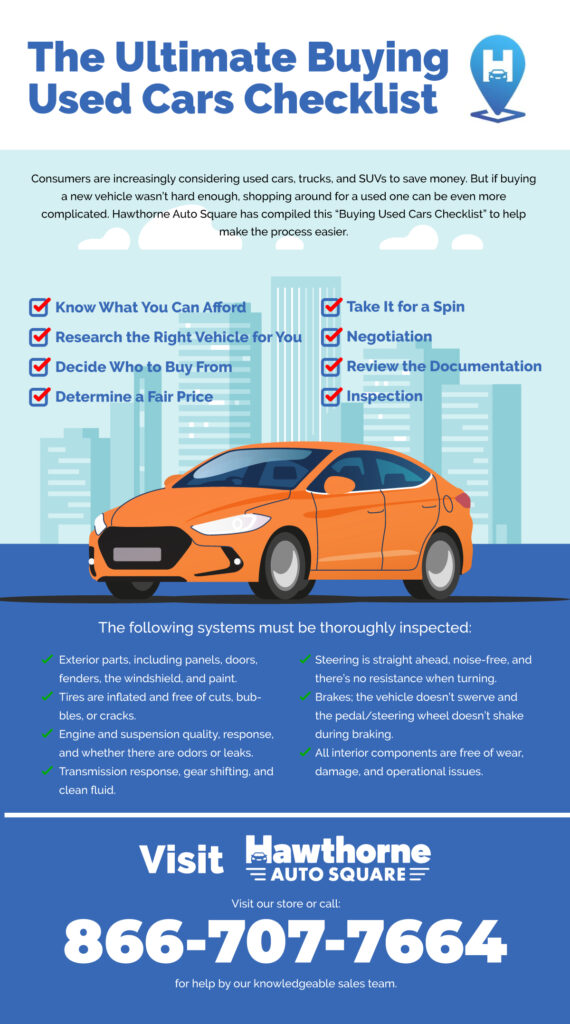 Know What You Can Afford
A down payment is typically required for a used car purchase. Then there are monthly payments (including interest) and expenses such as gas and service. Figuring out the total monthly cost can help you determine what vehicle you can afford, at what price, and work it into your budget. Pre-approved financing from a bank or credit union can help set a target price.
Research the Right Vehicle for You
Every car owner has their own set of needs and expectations. To learn what each vehicle offers, you'll need to read reviews. These can be easily found online. Carfax.com offers resources where you can search specific makes and models and read reviews, pricing information, fuel economy ratings, and other details.
Decide Who to Buy From
Used cars can be purchased from dealers or private sellers. You may get a lower price from an individual selling their old model. However, many dealerships have certified pre-owned cars, including late-model and off-lease vehicles. Although higher in price, they have been inspected, repaired, and refurbished. You're likely to get a warranty with one of these as well.
Determine a Fair Price
Carfax lets you find the average retail price and trade-in value for a used vehicle. Pricing factors in the make, model, year, mileage, and condition of the car. To obtain this information, enter the car's vehicle identification number or license plate number. Your zip code is also needed to find prices of similar cars in your area.
Take It for a Spin
Always take a used car for a test drive before buying it. This lets you get a feel for it and verify everything is working. Assess how it accelerates, brakes, and corners at different speeds. Also test the power windows, air conditioning, radio, and other features.
Negotiation
Dealerships often have set pricing. But many are open to some back and forth. Oftentimes, the asking price is not final. Before agreeing to pay it, speak with the salesperson about whether they can add features or extended warranty coverage, so you get more for your money. Private sellers usually advertise a higher price, but end up accepting the seller's best price. Start low when negotiating (about 10% to 15% lower than the asking price), but not too low as to alienate the seller or salesperson.
Review the Documentation
Read the bill and every document received before signing. Key details to consider include a clear title (any car loan is paid off), that verifies the seller is the legal owner. Make sure they sign the title and all required information, such as mileage, is noted. Registration is usually handled by the dealership but if you buy a used car privately, your state's motor vehicle facility can manage registration and licensing.
Check the Inspection
Have a certified mechanic inspect any used vehicle you intend to purchase. When going to a used car dealer, take a paper and pen to record important information, flashlight to check for corrosion/leaks, power towels for checking engine oil, and small magnet to see if any bodywork has been covered up.
The following systems must be thoroughly inspected:
Exterior parts, including panels, doors, fenders, the windshield, and paint.
Tires are inflated and free of cuts, bubbles, or cracks.
Engine and suspension quality, response, and whether there are odors or leaks.
Transmission response, gear shifting, and clean fluid.
Steering is straight ahead, noise-free, and there's no resistance when turning.
Brakes; the vehicle doesn't swerve and the pedal/steering wheel doesn't shake during braking.
All interior components are free of wear, damage, and operational issues.
All service and repair records should be readily available. If any accessories have been installed, the instructions should be provided. Also make sure you receive the car manual (typically found in the glove box).
Visit Hawthorne Auto Square
Our Buying Used Cars Checklist should help streamline the process. We can help every step of the way, from trading in your old vehicle to finding and evaluating the best pre-owned vehicle in our inventory for you. Get pre-approved in minutes, while we offer easy financing options as well. Visit our store or call 866-707-7664 for help by our knowledgeable sales team.